POWER AMPLIFIER CS-660P
One of Mr.Hyodo's favourite KT66 based power amplifiers is the QUAD II, (The QUAD II has recently been re-launched due to the demand from audiophiles)
M Hyodo has now decided to design a new power amplifier using the same KT66 tube but incorporating high-end audio grade components, far superior to those used in the original QUAD design.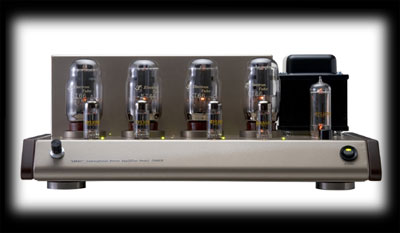 TWO CHOICES OF OUTPUT TUBES: KT-66 AND OPTIONAL 6CA7 (EL34)
By switching two selectors inside of the cabinet, you can use either KT-66 or 6CA7 (EL34) KT-66 or 6CA7 (EL34) KT-66 or 6CA7(EL34)KT-66 or 6CA7 (EL34), a LED indicator at the foot of each tube will change its colour and show you which tube is in use. You also can use several other tubes of different sound characterisic. (Refer to the Tube List)
STEREO/MONO SELECTOR SWITCH
You can use CS-660P as a monaural power amplifier by changing the selector switch giving an 80W output power.(40W x 2 when used as a stereo power amp.)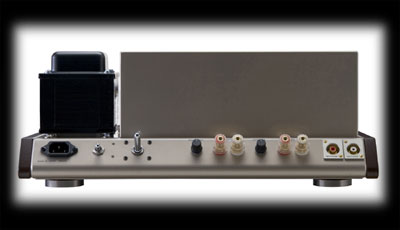 A WIDE RANGE OF SPEAKER APPLICATION
Multi output impedance selector: 4/6/8/16 ohms.
FLAT AND WIDE FREQUENCY RESPONSE
A wide frequency response from 10Hz to 100KHz (-0dB) caters for digital audio formats such as SACD/HDCD.
OTHER FEATURES
Twin-triode tube 6CS7 for the first-stage amplification.
WBT type speaker terminals.
Large capacity choke-coil: 400mA
Dumper tube 6CJ3 (for Colour TV use) is applied to delay a supply of high voltage (B-Voltage) to output tubes in order to protect output tubes from damage and to increase tube life.
All high-end audio grade electrical components (condensors, resistors)
Operation indicator lights up when the tubes are warmed up.
Wood Side-Panels.
CS-660P SPECIFICATIONS
TUBES COMPLIMENT
(4) KT-66, (EL34/6CA7 - Option)
(4) 6CS7
(1) 6CJ3
OUTPUT POWER
(Stereo/Mono Selector Switch)
Stereo
40W x 2 (KT-66) at 1KHz.
Monaural
80W X 1 (KT-66) at 1KHz.
FREQUENCY RESPONSE
10Hz - 180KHz. (-3dB)
DISTORTION
0.7%(10W)
INPUT SENSITIVITY
1.5V at 40W
INPUT IMPEDANCE
100K Ohms.
OUTPUT IMPEDANCE
4/6/8/16 Ohms (Selectable)
POWER CONSUMPTION
230W
WEIGHT
17.0 Kgs.
DIMENSIONS
415 (W) X 480 (H) X 320 (D) mm
ATTACHMENT
Detachable AC Power Cable x 1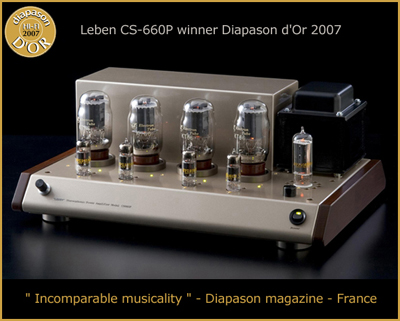 TUBE COMPATIBILITY LIST
TUBES
SELECTOR SWITCHES ON REAR PANEL
CATHODE RESISTOR
PLATE VOLTAGE
COLOUR OF LED INDICATORS
RED
GREEN
RED
GREEN
POSITION OF SELECTOR SWITCH
UP
DOWN
UP
DOWN
KT66 (Standard)
O
X
X
O
EL34/6CA7 (Option)
X
O
X
O
OTHER APPLICABLE TUBES
KT77
X
O
X
O
6CA7
X
O
X
O
KT88
O
X
O
( * )
KT100
O
X
O
( * )
6L6GC/5881
O
X
O
( * )
6550A
O
X
O
( * )
350B
O
X
O
( * )
KT90
O
X
O
( * )
5881
O
X
O
( * )
DO NOT USE
6L6(METAL TUBE)
(A RISK OF ELECTRIC SHOCK)
6L6G
6L6GA
6L6GB
(NOT APPLICABLE)
7027(A)
6550
(*) … ALSO APPLICABLE