[Discontinued]6V6GT BEAM OUTPUT TUBE POWER AMPLIFIER MODEL: CS-200P
6V6GT BEAM OUTPUT TUBE
6V6 is welknown by its high-efficiency, high-sensitivity and superior distortion characteristics, and most suitable for a compact hi-fi amplifier with a high capability. 6V6 has been improved to 6V6G, 6V6GT and 6AQ5(A), and each type has a different characteristic of its sound. We selected for CS-200P a "Quad-set"(4 pieces with equal specifications) of 6V6GT in order to keep a same quality and specifications of the amplifier for several years.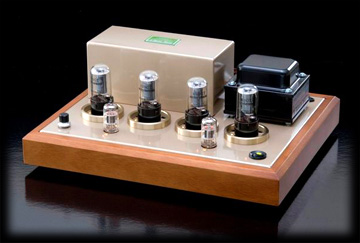 The sound of 6V6 tube has been well recognized and has been used for several consumer and professional audio equipments. 6V6 type has many variations and each type has its own characteristic of sound, and you can enjoy CS-200P with different type of 6V6 at your option.
DUAL-TRIODE TUBE 12DT8 (AMPEREX - HOLLAND)
ORIGINALLY DEVELOPPED OUTPUT TRANSFORMER AND POWER TRANSFORMER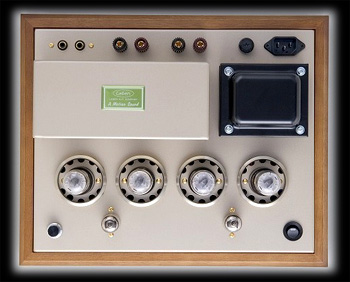 CS-200P SPECIFICATIONS
TUBES EQUIPPED
6V6GT (Electro Harmonix) x 4
12DT8 (AMPEREX)
OUTPUT POWER
MAX 12W x 2(8 Ohms)
FREQUENCY RESPONSE
10Hz - 50KHz (-3 dB)
DISTORTION
0.9% (10W) 1KHz.
INPUT IMPEDANCE
100K Ohms.
INPUT SENSITIVITY
650mV
OUTPUT IMPEDANCE
6 Ohms or 8 Ohms (Preset)
POWER CONSUMPTION
65W
WEIGHT
9 Kgs.
DIMENSIONS
360(W) X 295(D) X 140(H) mm
ATTACHMENT
AC Power Cable x 1
APPLICABLE TUBES
6V6G "MAZDA"(France)
6V6GT "MAZDA"(France)
7408 "G.E." (U.S.A.)
E.T.C.